American Lithium Corp. ("American Lithium" or the "Company") (TSX-V:LI | NASDAQ:AMLI | Frankfurt:5LA1) is pleased to announce a new lithium discovery from the initial drill hole completed at one of the key discovery targets previously identified from 2021 field work conducted near the Community of Quelcaya. Further holes have been drilled near this discovery with identical geology to the discovery hole and full assays expected shortly.
The Quelcaya exploration project comprises 3 areas of mapped surface lithium mineralization located 5.5 to 11 km west of the Company's Falchani lithium deposit near the village of Quelcaya in Puno, southeastern Peru (see Figure 1 – Quelcaya – Falchani Drill Platform Location Map, below). Quelcaya was the first of three exploration drilling permits submitted by the Company, which was granted by the Peruvian Ministry of Energy and Mines (MINEM) in May 2023. Drilling continues in and around Quelcaya with 6 drill hole platforms planned in total, each with multiple holes.
Highlights:
Large lithium district emerging on West side of Macusani Plateau;

Large-scale lithium mineralized zone 222.5 metres thick, averaging 1,560 ppm Li at 119.1 m downhole; maximum 1 m interval sample with up to 2,668 ppm Li at 335 m;

Cesium grades typically higher than average cesium grades in the main lithium bearing mineralization at Falchani with similar potassium grades;

Different style of mineralization from Falchani with significant potential for pre concentration; initial metallurgical work highlights potential to increase head-grade through standard techniques;

Further metallurgical work on pre-concentration and leachability continues.
Simon Clarke, CEO of American Lithium, states, "We are very excited with this discovery drill hole at Quelcaya. The lithium mineralization is in rocks that are texturally and geologically distinct from the Falchani tuff mineralization, but are obviously related to the same 8-million-year-old volcanic activity responsible for Falchani. The potential scale of this area of lithium mineralization is very large given the thickness seen in the discovery hole. The potential to pre-concentrate the lithium in this style of mineralization is also very encouraging as we start to analyze the leachability and economic potential. This discovery also validates our thesis that the Macusani Plateau hosts more than just the Falchani lithium deposit and has the potential to become a major lithium district, which we control."
Q26-TV Quelcaya Discovery Hole:
Platform Q26 drill hole Q26-TV (vertical), the first hole drilled on the 3 lithium anomalies comprising the Quelcaya area, intersected a long interval of lithium mineralization in subvolcanic to aplitic, fine grained peraluminous intrusive granitic rocks, under barren, to weakly mineralized rhyolitic cover rocks (see Table 1 – Drill Hole Q26-TV results, and Figure 1 – Quelcaya – Falchani Drill Platform Location Map, both below);

Aplitic micro-granite was intersected from 119.1 m to 341.6 m (222.5 m true thickness). This interval averages 1,560 ppm Lithium ("Li"); 643 ppm Cesium ("Cs"); 1,049 ppm Rubidium ("Rb") and 3.32% Potassium ("K") with maximum 1 m interval sample of 2,668 ppm Li at 335 m;

The crystalline nature of this new lithium-rich granitoid indicates that non-lithium-bearing phases, notably quartz and alkali feldspars should be able to be eliminated through pre-concentration/floatation work and lab trials are on-going;

Leaching test work will be initiated on the whole rock samples, as well as any upgraded material to assess the amenability to the Falchani sulfuric acid flow sheet conditions;

An interesting 8 m interval (at 61-69 m) of Cesium-rich mineralization was intersected in the overlying rhyolitic cover rocks averaging 1,686 ppm Cs, but with depleted Li (447 ppm); Rb (411 ppm) and severely depleted K (1.44%); this is unusual as the rhyolite cover rocks do not usually contain highly anomalous Cs and are generally fairly homogeneous in all major and trace elements;

From 341.6 m to 414.6 m (end of hole) coarser grained alkaline intrusive rocks interpreted to be quartz monzo-diorite to grano-diorite were intersected. This interval averages very low Li (130 ppm); Cs (270 ppm); Rb (403 ppm) but increased K (4.2%). This rock is of unknown age but is interpreted to be much older basement rocks to the overlying 8-million-year-old and younger, Macusani-Falchani volcanic-subvolcanic rocks.
Figure 1 – Quelcaya – Falchani Drill Platform Location Map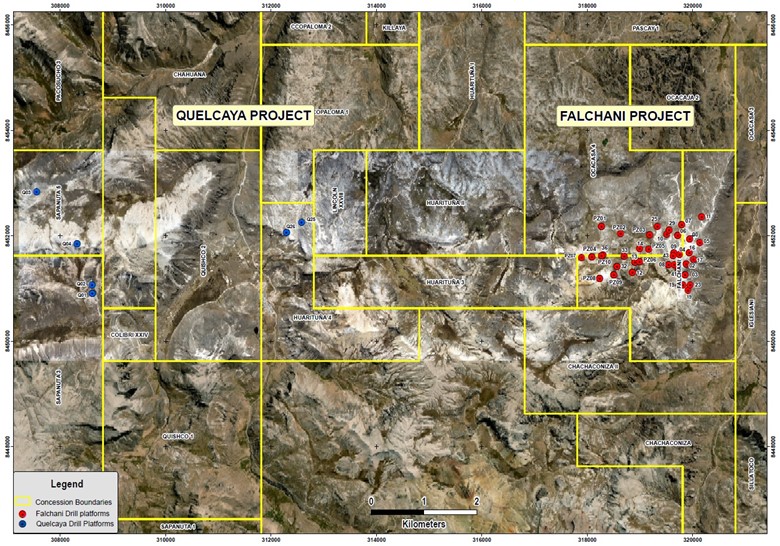 Table 1 – Drill Hole Q26-TV results
| | | | | | | | |
| --- | --- | --- | --- | --- | --- | --- | --- |
| Q26-TV – 414.6 m total depth – Vertical | From (m) | To (m) | Thickness (m) | Li (ppm) | Cs (ppm) | Rb (ppm) | K (%) |
| | 119.1 | 341.6 | 222.5 | 1,560 | 643 | 1,049 | 3.32 |
| | 61.0 | 68.0 | 8.0 | | 1,686 | | |
| Maximum Li interval | 335.0 | 336.0 | 1.0 | 2,668 | | | |
| Maximum Cs interval | 62.0 | 63.0 | 1.0 | | 2,220 | | |
| Maximum Rb interval | 316.0 | 317.0 | 1.0 | | | 1,344 | |
American Lithium | www.americanlithiumcorp.com
Share
Share to Facebook
Share to twitter
Share to LinkedIn
Share to pinterest
Collection
Collected
Give the thumbs-up
Liked