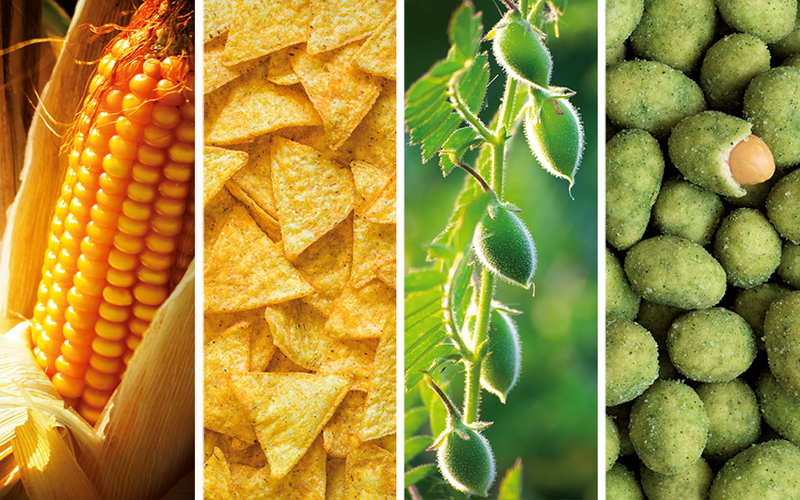 GoodMills Innovation_Special vegetable flours based on corn and pulses. Image: GoodMills Innovation.
GoodMills Innovation will showcase a variety of ingredients for snack applications at Snackex.
No matter if it's snack coatings, snack items, tortillas or tacos: with a broad portfolio of purely special vegetable flours based on corn and pulses, GoodMills Innovation offers custom-fit solutions for the snack sector.
Visitors to Snackex can learn about contemporary plant-based ingredients for a variety of snack applications from GoodMills Innovation. In particular, the company stands out for its extensive expertise in coatings.
"For coated nuts and other snacks, it simply comes down to the crunch factor. The bite, but also the flavour development, absolutely has to be right – we have been working on this very successfully for many years and have reliable solutions that are technologically and sensory convincing," said Dr. Kerstin Burseg, head of research & product development at GoodMills Innovation.
Among other things, the company will be exhibiting its SNACKMAXX MASA flours made from corn, which are suitable for use in tortilla chips and also coatings. They are gluten-free and clean label, and – since they are available in a variety of granulations – can be used in a wide range of snacks.
Similarly, the company's range of legume flours enables protein claims that appeal to nutrition-conscious consumers. "We can also use our legume flours to positively influence the dough properties and thus the product quality, for example of stacked chips," said Dr. Kerstin Burseg.
Related people: Dr. Kerstin Burseg
Share
Share to Facebook
Share to twitter
Share to LinkedIn
Share to pinterest
Collection
Collected
Give the thumbs-up
Liked