Energy Vault Holdings, Inc. (NYSE: NRGV) ("Energy Vault" or the "Company"), a leader in sustainable, grid-scale energy storage solutions, announced that five new EVx gravity energy storage systems (GESS) will be deployed by China Tianying Inc. (CNTY) (CN: 000035) under the Company's previously announced licensing and royalty agreement with Atlas Renewable, which includes a 5% project revenue royalty associated with each project.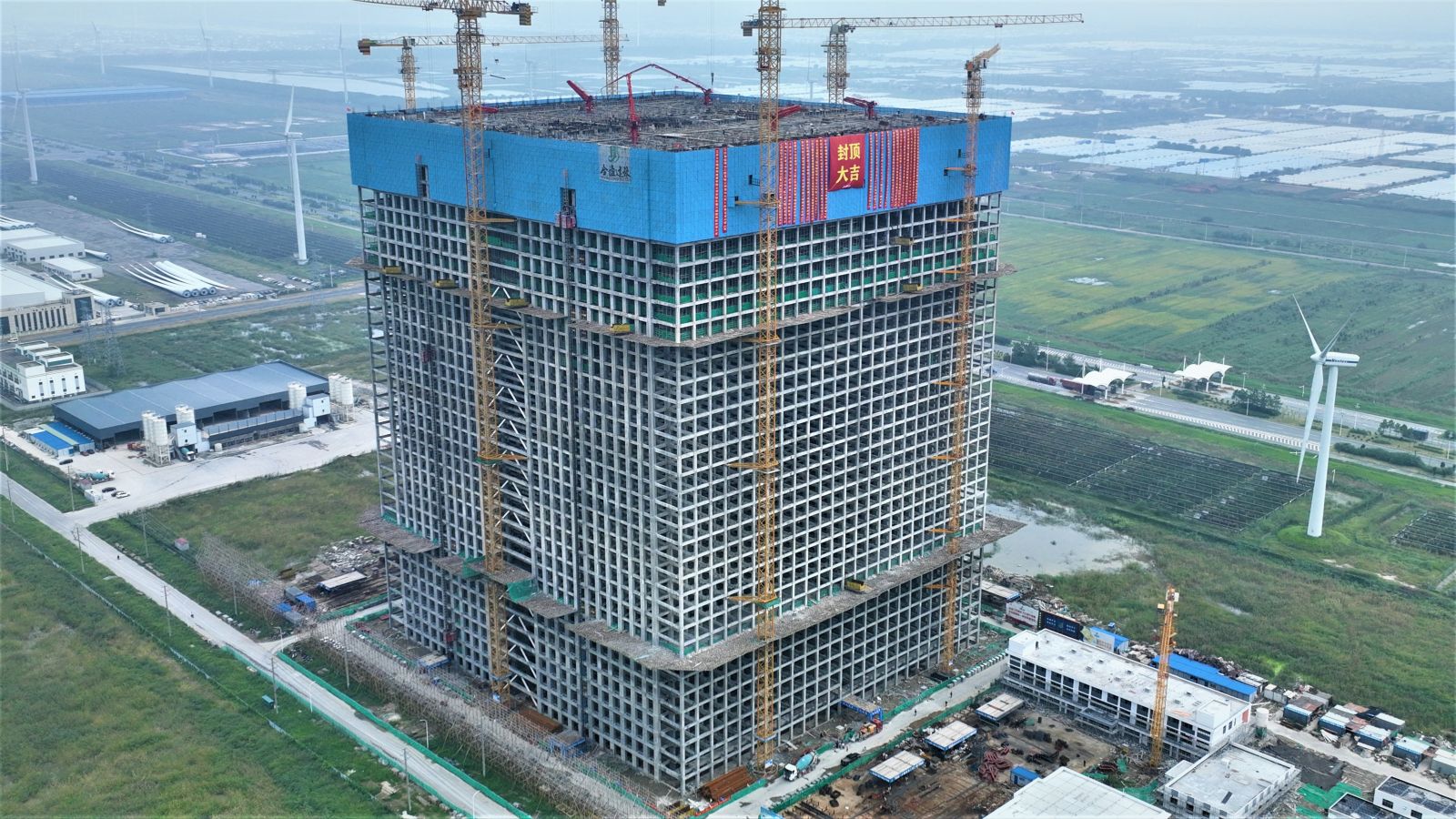 Chairman of China Tianying, Mr. Yan Shengjun, stated, "Energy Vault's innovative gravity energy storage technology is seeing strong demand in China because of the long life of these assets and the significant local economic content that helps meeting the state-mandated energy storage requirements accompanying the rapid growth of China's renewable energy deployments. As we commission the first 100MWh system in Rudong, which we have optimized for the China market requirements, we are pleased to be quickly expanding this groundbreaking technology that will enable intermittent wind and solar power generation to more readily replace other fossil fuel-based generation and thus help accelerate China's clean energy transition and achievement of its net carbon neutral goals."
With the 100 MWh EVx GESS in Rudong and the 2 GWh EVx GESS in Tong Liao, Inner Mongolia, the following recently signed agreements by CNTY bring total existing and planned EVx deployments in China to seven, totaling 3.26 GWh, all of which include a 5% project royalty.
Agreement with Hebei provincial government to build a 100 MWh EVx GESS in Zhangjiakou, Hebei Province

Agreement with Jiangsu provincial government to build a 100 MWh EVx GESS in Suzhou, Shanxi Province

Agreement with Gansu provincial government to build a 200 MWh EVx GESS in Jinta County, Jiuquan, Gansu Province

Agreement with Jilin provincial government to build a 660 MWh EVx GESS in Songyuan, Jilin Province

Agreement with Xinjiang government to build a 100 MWh EVx GESS in Yining, Xinjiang Province
China's energy policies require renewable energy plants to integrate storage of 20% of their nameplate generation capacity, with at least a 2–4-hour duration. Most recently, this has been satisfied with lithium-ion battery technology to complement the significant installed base of pumped hydroelectric storage in China.
Similar to pumped hydro, Energy Vault's GESS technology enables a much longer technical life and thus a lower Levelized Cost of Storage over time while providing broader project scalability, higher round-trip efficiency, and safety benefits versus existing technologies. In addition, and unique to Energy Vault, the large 25 ton blocks mobile masses that are the basis of the storage medium are constructed with local soil, avoiding carbon intensive concrete, but can also be constructed with various waste materials like coal ash, concrete debris, mining tailings and other waste sludge materials otherwise destined for landfills. As one of the leaders in China in waste remediation and environmental services, China Tianying's partnership with Energy Vault brings many "circular economic" synergies, which are being exploited for the local market development as the public announcements of these additional projects demonstrate.
As previously announced, commissioning of the recently constructed 25 MW/100 MWh EVx GESS in Rudong, China started in June as planned. The EVx structure is fully built with the formal "capping ceremony" having taken place at the site in Rudong in September 2023 concurrent with commencement of the formal process for state grid interconnection. Construction of a 4-kilometer 35 kV Overhead Power Line to the existing Remote End Substation that serves the adjacent wind farm has also been completed as the remaining mechanical and software commissioning activities progress as expected. Pending the final state grid interconnection and homologation formal processes, Energy Vault's EVx will be the world's first commercial, utility scale non-pumped hydro gravity energy storage system.
Also as previously announced, CNTY is deploying a 2 GWh EVx system for the initial zero carbon industrial parks in Tong Liao, Inner Mongolia.
"CNTY's recently signed agreements reflect the strong and growing market adoption of our gravity energy storage technology, which will help firm up China's growing renewable energy capacity to better meet the energy demand growth that continues at a high pace in China," said Robert Piconi, Chairman and Chief Executive Officer, Energy Vault. "With the first EVx™ system coming online soon in Rudong, five new EVx deployments announced today, and seven total deployments of 3.26 GWh within the first 18 months of our partnership, I would say we are off to a good start. I commend Chairman Yan and the broader China Tianying organization for their courage, fortitude, and leadership they are demonstrating in executing this project through two COVID-related shutdowns in the first year while driving rapid local project development that will assist China and the world more broadly in our collective drive to net carbon neutral."
Share
Share to Facebook
Share to twitter
Share to LinkedIn
Share to pinterest
Collection
Collected
Give the thumbs-up
Liked